Music will start in April with our 3rd jam session of the year!
Like the previous ones, the evening of April 1 will take place in two stages: a first part provided by Marie Louve and her friends, and a second where the stage will be open to all!
For those who do not yet know, we invite you to discover the jam sessions on video.
We invite you once again to meet at L'Étage Club from 8 p.m. at 77 rue Faubourg du Temple, Paris 10th. We are waiting for you for a good moment of musical sharing!
A participation of 5 euros / person will be requested for the organization.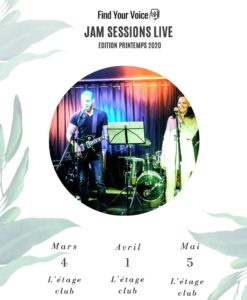 If you are not available for this session or if, like us, the Jam Sessions have become an unmissable event for you, the next session will take place on May 5! More info on the blog soon.