École de chant et de musique à Paris
The new singing and music school in paris and online
Welcome ! Whatever your age or level, we offer you Classes singing and music online and / or in Paris individually and in workshops groups to perfect your mastery. At Find Your Voice, we adapt our pedagogy so that everyone can progress at their own pace in a caring and friendly atmosphere.
The Classes singing and online music are oriented according to your expectations thanks to the personalized advice of your teacher. You are free to work on a particular technique or prepare for an important event (entrance exam to the conservatory, audition, public concert, studio recording, etc.). You also have access throughout the year to our workshops groups that allow you to (re) discover in small groups different singing techniques and musical universes to vary the pleasures! The school also organizes many concerts in clubs and theaters in Paris and Île-de-France so that, once ready, you can practice your technique and experience the thrills of the stage!
Concerts and jam sessions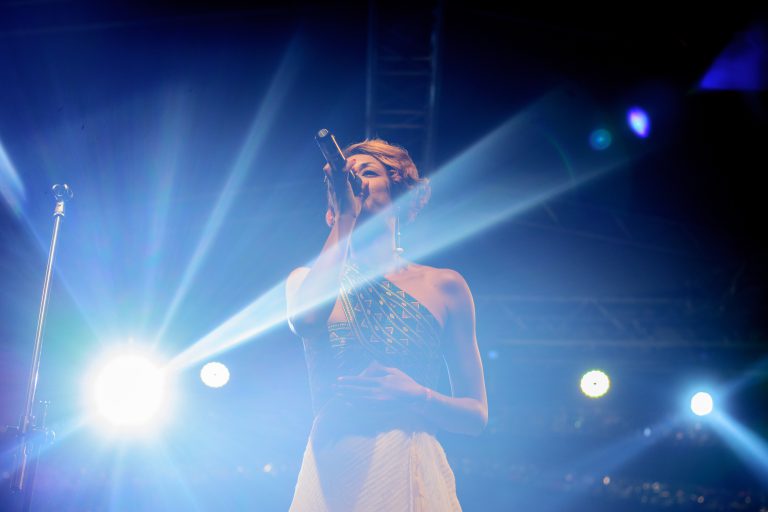 Due to the Covid-19 epidemic, we are setting up online singing and music lessons. Take advantage of this time at home to improve your singing and / or music practice!
We regularly organize concerts and jam sessions: the opportunity to make yourself known and overcome the fear of singing in front of others! Next jam session: this Saturday, September 19 at MONK - La Taverne de Cluny, bar-restaurant with pub decor and serving beers and simple dishes against a background of live music (jazz / soul / bossa), 51 Rue de la Harpe, 75005 Paris.
"Find Your Voice school, my oxygen bubble!" I met talented teachers who not only allowed me to improve my vocal technique but also made me discover very diverse musical universes. The solo lessons as well as the thematic group workshops have become enchanted parentheses for me which I can no longer do without. Thank you all, teachers and students, for these moments! "

Marie

"I am one of the first students of the Find Your Voice School. My original idea was to learn to sing to improve my playing on the piano. But the pleasure that I found in this apprenticeship took me far beyond and today, in addition to the personal well-being of singing, I have the feeling that I have two musical instruments. "

Charley

"Discovering my voice and learning to sing was a new experience for me. Find Your Voice knew not only to give me confidence but also to make me progress! I come out of each course with a smile that speaks volumes about the joy that the teaching of this school brings !!! Warning: addiction guaranteed! "

Sophie

"Excellent singing teacher who works with kindness, perseverance and precision! Find Your Voice has allowed me to take new paths towards my voice! The advice given has its effect day after day, month after month ... I clearly see their impact on my voice and my interpretations! It is an absolutely remarkable school, if you manage to book a course with them, you are lucky !! "

Clemence

"A pleasant welcome, a benevolent atmosphere, a pleasant energy… The great beginner that I am greatly appreciated the pedagogy of her first lesson! So, I will start again next week! "

Sandrine

"With her background, Maya has all the keys to enable us to combine body and voice work. The vocal exercises that we practice together are a natural part of a physical practice, which allowed me to "desacralise" singing to integrate it in a more instinctive way. The global vision that Maya is working on allows the voice to free itself in all its dimensions to become the extension of our emotions and deep vibrations. It is with infinite benevolence and unfailing creativity that Maya makes me progress. Her classes are both playful and profound. In short, I am a total fan! » 

Marie Laurence

"I took jazz and scat lessons this year with Find Your Voice and it was great! Listening teachers, caring and professional who give tips and means to move forward! I am very satisfied and I will continue to take classes! Feel free to contact them ! "

Fati Fly

"The teachers are incredible. Listening, gentle and demanding, I have progressed enormously since the start of my lessons. The lessons are smart, exciting and very professional. I recommend ! "

Carine

"I am delighted to have started singing lessons and especially to have chosen Find Your Voice. The very enthusiastic and professional teachers, they communicate her passion and give lots of technical, concrete and realistic advice. Find Your Voice makes us share the warm universe of internships, concerts and jam sessions in which we can participate! A great school! "

Françoise

 The singing workshops that the Find Your Voice school organizes are a great way to get to know others, to discover them, to help them progress and ultimately to improve themselves. This leads us to a different social life through the meeting of people we would never have crossed or the frequentation of places where we would probably never have gone! "

Marie Luce

"Lina is more than a teacher. It adapts to your needs, your desires and your sensitivity. Singing is a surpassing of oneself, a baring that Lina respects by highlighting your qualities while working on your difficulties. His skills are multiple: singing, music theory, piano. And even more interesting, Lina allows students to meet at extraordinary times to share the same passion! On the program: group singing lessons, preparation of jam sessions, weekends intended to deepen knowledge but also concerts during which students can perform in public! "

Sophie

"Find Your Voice knew how to build a vocal pedagogy and a coaching adapted to my needs from the first lessons. I recommend for all levels because you will learn in a good mood by his side! "

Lucas

« Lina Stalyte m'accompagne depuis 2020 sur l'écriture de mes chansons, 2 single sont déjà sortis et d'autres sont à venir. Lina m'aide beaucoup sur la mise en forme de mes titres et à transcrire sous forme d'accords et de notes les mélodies, j'apprends aussi beaucoup avec elle musicalement. Aujourd'hui grâce à Lina et sans complexe, je peux demander la collaboration de musiciens professionnels sur mes morceaux , mon dernier single on est la preuve puisque Christophe Dubois, fidèle batteur de « Calogero » a joué sur mon morceau «  I'm in love I can confess » »